Ginger Beef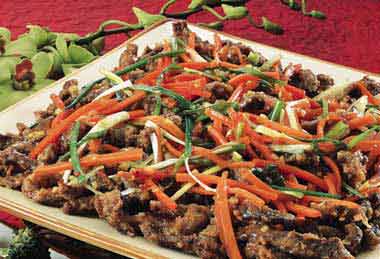 Ingredients
2 Tbsp tomato purée
1 Tbsp vinegar
4 Tbsp olive oil
1 tbsp brown sugar
1 minced garlic cloves
2tsp ginger zest
½ tsp salt
900 gram lean meat beef
300 ml low fat yoghurt
1 small red pepper finely diced
Preparation
Mix tomato paste with vinegar, oil sugar and garlic and salt.
Add hot pepper.
Marinate beef in this mixture and refrigerate a whole night.
Pour into oven tray, cook for 20 minutes at 240 C than reduce heat to 220 and cook for extra 20 minutes.
To prepare a sauce, mix yoghurt with marinated sauce from the oven tray.